People always ask who is the Michael Jordan of the boxing world at this time.  Who is the pound for pound king?  You can only think of one person and it's Canelo Alvarez!  When the world' found out that the world's number one boxing designer will be working with the world's #1 boxer Canelo Alvarez it was a match made in heaven.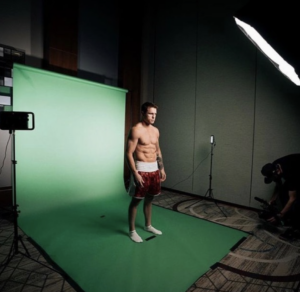 Designing for the world's best boxer is no easy task.  Javier Zinzin Jr. is known for last minute deadlines and creating a high quality boxing outfit for some of the world's best athletes.  When a fighter is turning pro, is in a PPV main event or just a headliner they want to be at their best.   All the training and effort gone into the ring would have gone to waist with an uncomfortable boxing outfit. The pros turn to IGMOB for all their custom fight gear for a reason.
Styling Saul Canelo Alvarez for his main event PPV fights is a task only worth of few, this task is for the world's #1 boxing designer Javier Zinzun Jr.  When you deal with IGMOB for a custom fight outfit you not only get style but you get comfort.   The material used for every fighter are unique and the placement of panels and the way the shorts get stitched are all a work of art.  As you can see from the photos the signature IGMOB trunk waist belt is not only comfortable but allows fighters to showcase their title sponsors.
It's a proven fact that working with IGMOB for your next fight will give you a competitive advantage in the ring.   A fighters outfit can play an important role when fighting, if the figher is not comfortable it can be an absolute disaster int he ring.    IGMOB fight outfits are made ultra light and fighters can sense a feather like presence in the ring.  There is a reason why fighters train so hard for their boxing events and why not get the best tools for those special moments.
When you are in the market for your next boxing outfit choose the world's number one boxing designer IGMOB and the team for your next fit.  We guarantee you will not only look great but increase your performance for your next bout.